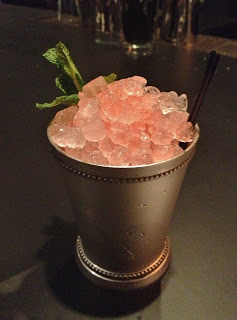 Bludso's West Hollywood
I ain't no gambler, but I'd bet on this julep.
In honor of this Saturday's Kentucky Derby, hoof it over to Bludso's, Weho's new-ish bastion of BBQ, for the best julep outside Louisville. Here's why their version gets the gold cup. As co-owner Jason Bernstein (a self-taught cocktail connoisseur) explains, Evan Williams bourbon is steeped in mint for 24 hours, strained, then chilled on tap. Like the Foreigner tune, this bourbon is cold as ice, so that when poured over pebble ice, the booze doesn't get watered down.
Mixed with sugar, bitters, and a splash of soda, the result is delicious, and dangerously, potent. This is a macho julep--well, as manly as you can get with a mint sprig and silver mug--that pairs perfectly with the meaty menu. My faves are the juicy hot links, tender brisket, porky collard greens and crunchy pickles.
With the temps topping 90 today, why not get the party started early?