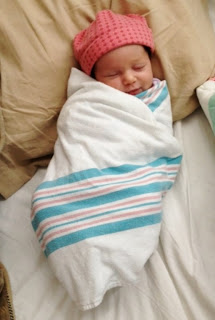 There's something about Elizabeth Ray.
My sister noticed it first, observing how her brand-new daughter was, well, particularly porcine. Terms of endearment often take their cue from the animal kingdom; "Monkey" and "Bunny" are affectionate nicknames my friends dub their significant others. With babies, these pet names increase exponentially. Their newborn adorableness elicits even serious folk to coo "Lamb Chop" and "Chicken" in high-pitched sillyness.
In my niece's case, the piglet analogy was inevitable. Elizabeth's wee wardrobe is predominantly pink. Swaddled tight, she resembles a piggy in a blanket or a pork burrito. When she nurses noisily, she's a suckling pig. With her newborn cold, her snores sound like little oinks. To use a, er, literary reference, dainty Elizabeth takes after Olivia, the pretty pig of children's book fame, who I discovered while honing my Auntie chops with my other lovely nieces, Isla & Syla.
In honor of this little piggy--and her aunt's penchant for pork--here are my porcine picks in her hometown, Seattle.
Jambon @ Bar Ferd'nand Capitol Hill
Alone, this buttery jambon is luscious. Blanketed on fresh-baked, Corson Building sourdough (slathered Spanish-style with tomato) and drizzled with olive oil, it's downright decadent. This is as sexy as ham gets--glistening and unfurled on this open-faced awesomeness. Paired with a chilled albariño or a tart cider, this is the happiest of hours at this gem of a bar.
Salumi sampler @ Bar Cotto Capitol Hill
www.ethanstowellrestaurants.com/barcotto/
Ethan Stowell's latest addition to his epicurean empire is Bar Cotto, a salumeria featuring local and international cured meats. Make like a taste-tester and order a 3- or 5-sampler: ribbons of silky mortadella--Italy's refined cousin of our pedestrian lunchmeat, bologna, culatello--the tender, creamy, "king of salami", speck--a smoked prosciutto, succulent house-made porchetta, and soppressata picante for a spice kick.
Opt for the traditional Parma accompaniment, torta fritta: fried bread pillows. Still hungry for more pig? Bar Cotto offers a rare, pizza topping: n'duja, a spreadable salami from SF's salumi sorcerers, Boccalone. Imagine the heat of Mexican chorizo and the texture of French rillettes...and voila, n'duja!
Cured pork loin @ Agrodolce Fremont
The lighter side of pork is showcased at Maria Hines' Sicilian ristorante. Thinly-sliced lobes of house-cured pork loin, lonzino, are topped with crunchy, raw fennel, snipped chives, and chili oil made from sweet Aleppo peppers. Just in time for the warm weather, this delicate, lean, refreshing dish proves that pork need not be heavy.
Pâté albigeois @ Le Pichet Belltown
At this oh-so-Parisian charmer, the country-style pâté is a marriage of two types of pig: ground pork and bacon. Served with classic accoutrements, cornichons and grainy mustard, each bite of this rustic, hefty pâté whisks you across the Atlantic. Thankfully, this traditional French pâté is served in an American-sized portion.
Porchetta @ Salumi Pioneer Square
At Armandino Batali's palace of pork, arrive early to snag their much-lauded, so-good-it-sells-out porchetta sandwich.This behemoth is stuffed with toasty, fragrant, fennel-spiced pork shoulder, meatballs, onions & peppers, and a garlic-caper spread. Juicy is an understatement--prepare to get messy with each dripping bite. Don't be intimidated by the lines outside.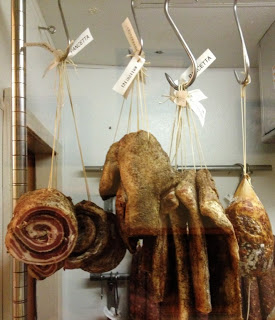 A bevy of cured meats are available for purchase, either whole or sliced onto delectable sandwiches. I'm partial to the finochiona (fennel) and piquant mole salami. Win over your out-of-town friends--Salumi can be shipped throughout the U.S. of A.