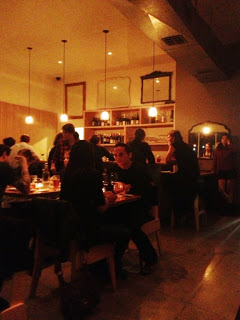 Black Hogg Silverlake
eat: Spicy Chicken Liver, Brussels Sprout Hash, Popcorn Bacon, Buttery Lamb Burger, Lamb Belly, Octopus and Scallop Chana Masala, Five Milks Bread Pudding
Drop it like it's hot.
Chef Eric Park cherishes chilies like Snoop digs weed. Moroccan harissa, Japanese togarashi and Mexican serranos pack the menu with piquant punch; Black H-O-Double G is the International House of Hotness.
Like its namesake--a black hogg is actually a year-old sheep--Black Hogg is celebrating its one-year anniversary. Even after liquor-license hiccups and a scathing L.A. Weekly review (which destroyed my trust in B-Rod), this carnivorous charmer is better than ever. Serving up lusty, robust fare--inspired by a stint at April Bloomfield's Spotted Pig--Chef Park's perks up dishes with pickled goodies and ethnic spices embracing L.A.'s multiculturalism. The GG-funk era has hit the Eastside.
Given the name and neon sheep beacon out front, its no surprise that Black Hogg is a mecca of meat. Park's skillz on the grill create succulent steaks, juicy burgers, and crispy pork. Come hungry, but leave the vegetarians at home.
While Black Hogg has an itty-bitty, affordable wine list, I'm a fan of their SLW-BYOB policy: free corkage on Sun.-Thurs. for any bottle purchased at Silverlake Wine, the best, and friendliest, wine shop in town. Our Montepulciano D'Abruzzo is an unfussy, soft red that pairs nicely with our meaty meal.
I should have a P.H.D. in pâté considering I've consumed my body weight's worth. Chef Park's pâté gets an A+ in my book; it is rustic, earthy and chunky--a la Osteria Mozza--then he adds caramelized serranos for piquant pleasure. Big triangles of fried chicken skin anchor the pâté--crispy sails on luscious, liver boats.
A contender for L.A.'s most artery-clogging bar snack, breaded and deep-fried bacon nuggets come with a creamy, maple dipping sauce. As an amuse-bouche, one piece of this piggy popcorn would be perfection, but I found the generous helping borderline overkill.
A crispy slab of roasted lamb belly blankets aromatic jasmine rice. With a wonderfully crunchy, spicy fennel harissa slaw and a cooling yogurt sauce, the whole is a savory sum of each tasty part.
In spite of the sprouts ubiquity about town, this dish reminds me why they are so beloved. Twice-cooked Brussels--equally crispy and tender--are tossed with bacon vinaigrette and fingerling potatoes. The poached egg is a beauty: a glistening white orb beckoning to be punctured.
Butter is not just an adjective, but an actual ingredient. The added pat of fat makes for an oozing, juicy patty. Stacked with Onetik sheep's milk blue cheese and pickled habanero onions, this is a trip-worthy burger. The accompanying fries have all the yum of McD's spuds without the processed ick.
Crispy octopus and a succulent scallop gussy up chana, a traditional Indian chickpea dish. Our waiter's spice warning is spot-on; each fiery bite is a tantalizing blend of chili, garam masala, and garlic.
Why stop at très when you can have cinco leches? Buttermilk, heavy cream, condensed & evaporated milk and whipped cream drench a brioche tower with deliciousness. Brown-butter apples and toasted pecans create a comforting combo. French toast for the evening.
FYI, the no-reservation policy can lead to long waits on weekend nights. Fortunately, the hostess is refreshingly honest about wait times. Wander down to the Thirsty Crow, where dapper mixologists will help you pass the time liquourously.