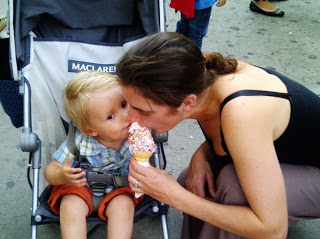 It's hot in here.
Bare legs, dry skin, chapped lips, blistering sunshine. The Santa Ana's are back. No amount of water can soothe throats parched from these warm winds. This calls for something stronger, something smoother...ice cream.
Since I was a tiny tot, ice cream has been my go-to remedy. The Steinman family freezer was always stocked with Breyers Mint Chip to soothe scraped knees. Good report cards merited trips to Friendly's for their ginormous Reese's Peanut Butter Cup sundae. As an adult, I've sought solace in a pint--no bowl needed-after bad days and worse dates. So, it should come as no surprise that when I'm tormented with thirst (the Santa Ana's have a tendency to cause crazy), I seek my frozen fix. Here are my preferred pints, on both coasts, in the Midwest, and online.
Graeter's Black Raspberry Chip
For me, Cincinnati is synonymous with ice cream. Born to a Midwest mom, family trips to our Ohio clan meant visits to Graeter's, a local chain that resembles Baskin-Robbins in style, but not substance.
Since 1870, Graeter's has been churning its "irresistible ice cream" using the French pot method. This small-batch technique creates super-dense and rich ice cream--a Graeter's pint weighs close to a pound instead of the usual 8 oz.--by reducing the air that normally occurs when whipping. My favorite, the gorgeously purple Black Raspberry Chip, bursts with berries hand-selected from Oregon. Chip is inaccurate; these are chocolate chunks that miraculously melt in your mouth, rather than stick to your teeth. You can't go wrong with any of the chip flavors, thanks to Graeter's patented process: liquid chocolate is poured into the pot, the chocolate freezes into a big shell on top and then is broken by hand into chewy chunks.
With adulthood, my trips to Ohio decreased, and Graeter's was only accessible via an online splurge of $75 for 6 pints. Now Graeter's is available at grocery chains nationwide, thankfully bringing ice cream back to its affordable roots.
Dr. Bob's Strawberry, Sour Cream and Brown Sugar
The title is real--Professor Robert Small got his doctorate in Business Administration--but he should have a P.H.D. in delicious. Manufactured at the L.A. Country Fairgrounds, Dr. Bob's handcrafted ice cream uses quality ingredients--seasonal fruit, Tahitian vanilla, and Scharffen Berger chocolate--to make stellar versions of classic flavors. His award-winning, high butterfat ice cream is ridiculously creamy and downright fluffy, as if it was whipped fresh that morning. I was transformed from a loather to a lover of strawberry ice cream after tasting Dr. Bob's Strawberry, Brown Sugar, and Sour Cream. The berries' sweetness blended with tart sour cream and the caramelized yum of brown sugar make for the ultimate scoop for summer. Chocolate aficionados will swoon for the Scharffen Berger flavors. I adore the "Works", a decadent, dark chocolate gem with bittersweet, semi-sweet, and cocoa nibs mixed in.
Eastsiders can buy Dr. Bob's at Cookbook while Westsiders will find pints at Food Check the site for other retail locations, or for a fresh scoop, visit Frank's Famous in Glendale. Away from L.A.? Dr Bob's can be shipped throughout the U.S.
Steve's Bklyn Blackout
Before Coldstone Creamery, there was Steve's Ice Cream. In 1973, this Massachusetts ice cream parlor pioneered the mix-ins, concocting made-to-order flavors like Heath Bar crunch for enthusiastic customers. Sadly, Steve's folded after a corporate takeover led the company in a pre-packaged (a.k.a. low-quality) direction, but former scooper, David Stein, restored the biz in the epicenter of artisanal food: Brooklyn. Collaborating with their culinary neighbors, Steve's repertoire feature Blue Bottle Coffee (Cinnamon Coffee), Salvatore BKLYN Ricotta (Strawberry Ricotta) and even Pies 'N' Thighs donuts (Nola Coffee & Donuts). I'm a sucker for the Bklyn Blackout: milk chocolate ice cream, stout cake pieces from local baker Ovenly and dark chocolate pudding. In response to the rise of dietary restrictions, gluten-free, dairy-free and vegan options are available.
I discovered Steve's in my hometown, Westport, CT, at the Double L Farm Stand. Pints are widely available all over NYC (shout out to Stinky Bklyn!), at East Coast Whole Foods, and, like the others, online.
Hope you enjoy this handy manual for how to beat the heat. Next time you are sending a care package, celebrating a foodie friend's birthday (ahem), or looking for a unique, wedding present, why not give the gift of a six-pack?