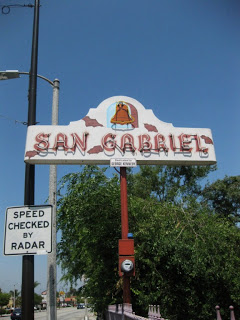 Last night I dreamed I devoured a snake. I had slow-roasted it, like a pig on a spit, split it down the middle and scooped out its steaming flesh with my fingers. As I lay in bed contemplating the oddity of my slithering supper, it hit me: It's the Year Of The Snake.
Ancient Chinese lore states that a snake in the house ensures your family won't starve. To guarantee you won't go hungry for Chinese cooking, let's take a trip to the largest Chinese-American community in the U.S.
Just 20 miles from L.A., the San Gabriel Valley isn't your cliché Chinatown: tourists, tchotchkes and a towering, dragon gate. It is China-Country--200 square miles of authentic eats. Like many SoCal spots, the SGV is a sea of nondescript strip malls, but you don't come here to ogle architecture. You visit to lunch like a native, dine on the cheap, and break free from your usual General Tso's.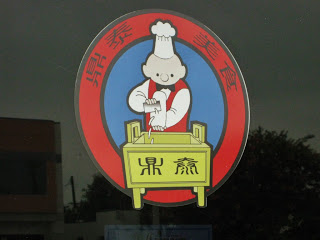 JTYH Restaurant Rosemead, CA
9425 Valley Blvd 626.442.8999
On Rosemead's Valley Boulevard, the "Broadway Of Chinese Eats", JTYH Restaurant specializes in Shanxi knife-cut noodles. Shaved from a log of dough. these spongy, glutenous noodles come cold or in hot broth with a variety of tasty toppings.
We opt for the sesame sauce, which clings to the thick noodles like skin on a snake. When tossed with scallions, egg, and cucumber, it makes for a cool and nutty dish.
Like a Tootsie Pop for the porcine-inclined, these pork-filled balls are crunchy on the outside and pillowy soft inside. What a difference a pan makes.
Listed as Pan Fried Buns on the menu, these empanada-like beauties are stuffed with sautéed leeks. They're a welcome dose of green in our decadently, doughy lunch.
A cross between a bahn-mi and a burrito, this tasty, two-hander has thinly-sliced beef, cucumber, scallions, cilatnro, and sweet hoisin sauce. FYI, Westsiders can find this at 101 Noodle Express in the Fox Hills Mall.
The friendly owner offers us this traditional, Chinese dessert: a black rice and red bean porridge that is pungent with just a hint of sweet.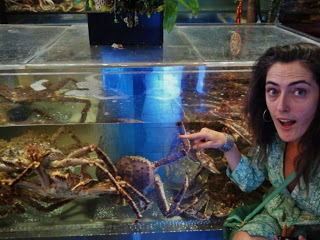 Tan Cang Newport Seafood San Gabriel, Ca
Celebrating with friends? Head to the bustling Tan Cang Newport Seafood. You'll find all the trimmings you'd expect from a Chinese-Vietnamese food palace: tanks of ginormous crabs & lobsters, lazy Susans and large parties gorging on endless amounts of food. When consuming Chinese, I have two rules: 1. Go with a group--to allow for an ample array of dishes 2. Go with a native--both to ensure authenticity and to assist with translating non-English menus. Thanks to my acquaintance, Harry, who organizes SGV outings with his Chinese friend, Herb, I played by my rules and won big. Tucked in a private room lined with red, Asian lattice, we supped like kings, yet paid like paupers--a dozen dishes for $25 a pop.
Our feast begins with a traditional hot & sour soup. Like a Chinese tea ceremony--where boiling water prepares the pots for the tea--this viscous, pungent soup warms our bellies for the bountiful banquet.
The pièce de résistance of TCNS is a dazzling mess of roughly hacked lobster fried in garlic sauce. Doused with green-onions, lobster innards and peppers, I prefer this sloppy goodness to a plain ol' lobster any day.
With equal enormity and sauce to the lobster, these crispy prawns come baked, not fried. Forget the knife and fork - you'll want to lick your salty fingers after each bite.
Plump clams are bathed in Thai basil, jalapeno, garlic, and ginger. A medley of marvelous flavors in a soothing broth.
Perfectly-cooked squid, shrimp, chicken and bok choy blanket a bed of crispy noodles. This clean and simple preparation balances out the spicy wallop of the other dishes.
When you've had your fill of oceanic flavors, order the Beef Loc Lac--one of the most popular plates here. A Vietnamese specialty, cubes of beef tenderloin lacquered in black pepper sauce are served a top charred peppers and onions.
Slices of fresh oranges end the meal, providing both a sweet finish and a natural hand cleanser. If you fancy something more substantial, a branch of Phoenix Bakery is located just down the street.