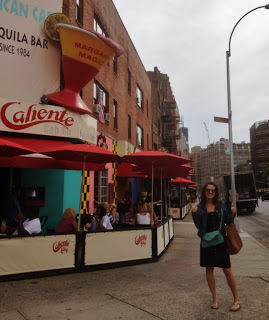 Bar Amá Downtown
eat: Queso Fundido, Fideo w/Octopus & Kielbasa, Peas & Grapes, Blood Sausage & Pork Cheeks, Mom's Green Enchiladas, Asparagus & Beets, Chicharrón, Frito Pie, Fennel & Snap Peas, Puffy Tacos, Sopapillas
sip: Nacho Vidal, Zapatista, Tahona Limon, Amá Old-Fashioned
Tex-Mex and I go way back.
For my first college gig, I hostessed at a rowdy, Tex-Mex restaurant: Caliente Cab Company. Famous for their frozen margaritas--evidenced by the monster cocktail beckoning from the facade--this was where locals went to get their tequila on, downing syrupy sweet margaritas or slamming shots wielded by bandolier-strapped waitresses. The edible offerings were cheesy, cheap, and filling--food was merely fuel for more boozing.
While Caliente was far from culinary, my experience there was meaningful. Within her trashy walls, I scored a fake ID, ventured beyond my NYU student body (while exploring the bodies of my male co-workers) and discovered the close-knit, motley crew that makes a restaurant hum. Nevertheless, after each shift, I would return to my dorm reeking of fajita smoke and fried chips, wishing I wanted to eat where I worked.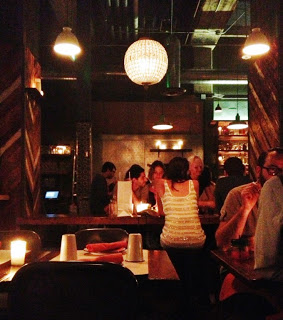 Enter Bar Amá, Chef Josef Centeno's answer to my freshman year dreams. Embracing his Texan heritage, Bar Amá is an homage to the women (ama) who raised Centeno; it is his "interpretation of their cooking". Integrating his fondness for the farmers market, his mastery of meat, and his love of spice, Centeno slings classics (enchiladas, queso fundido) and originals while taking Angelenos on a tour of Mexican quesos and chilies.
As an ardent member of the Josef fan club--falling hard at Lazy Ox, then his first joint, Baco Mercat--I had high expectations for Bar Amá. After my first visit, I was surprised by my Caliente-like experience, where the booze outshone the edible. Chalking it up to new-restaurant jitters, I returned again, and again, to find food fitting of Centeno's skills.
Befitting a downtown restaurant, the decor is more industrial (metal chairs, wood-beam walls) than Latino. Instead of tacky chili pepper lights and sombreros, the Mexican accents are authentic: traditional tiles and a towering wall of tequila behind the bar. Come thirsty, for the entire agave family (from mezcal to sotol) is on hand. Deft bartenders shake up more than margaritas; fresh juices, chilies, homemade shrubs and bitters infuse fun and potent quaffs that pair well with the flavorful food.
Bartenders about town are breaking Campari free from its Negroni norm. Here, the blood-red bitter is blended with tequila blanco, chile-lime shrub, and honey. This sassy combo is reigning queen of my cocktail favorites.
On the left, the Zapatista mixes serrano, cilatnro, citrus and honey with Cielo Rojo Bacanora, a lesser-known agave-based spirit that is a subtle version of its smoky cousin, mezcal. The Tahona Limon, mezcal, lime, and sugar, is a gimlet, Mexican-style.
If you prefer your tequila unfettered, opt for this Mexican twist on a classic. Tequila añejo, house bitters and orange peel will warm you up for the eating ahead.
Scoop up this oozy triple threat of cheddar, Jack, and panela (a Mexican, paneer-like cheese). With avocado, sour cream, and salsa hidden below and chorizo on top, this gut-bomb begs to be shared.
With a wink to Centeno's Spanish roots, he serves traditional noodles, fideo, flavored with shrimp broth and chilies. Mingled with charred octopus, smoky kielbasa, and crunchy pepitas, this comforting combo is the table's top pick.
Verdant peas and tendrils, sweet grapes, spicy árbol chili, and tangy crema illustrate Centeno's skill at creating delicious out of quirky medleys.
Centeno's brand of bodacious meats is showcased with this blood sausage and pork cheek hash. Dished over wood-fired corn and quinoa, then topped with a fried egg, this brunch-like combo is how I want to start and end every day.
Mom knows what's best, especially with these stellar enchiladas. Homemade, flour tortillas stuffed with chicken are doused in delectable tomatillo sauce, crema, and a coat of blistered Monterey Jack, A tasty take on this homey classic.
Illustrating Centeno's penchant for seasonal produce, this dish welcomes the arrival of springtime asparagus as we bid adieu to winter beets. The veg are blanketed in luscious crema, slivered radish, spicy peppers, and hierba santa, a Central American leafy herb. As a student in Guatemala, I discovered hierba santa, which contains the same oil, safrole, used to make Ecstasy. While the herb sadly doesn't trigger the same euphoria as the dance drug, this plate will bring you bliss.
A far cry from the salty snack with the same name. Here, chicharrón is pork belly not pork rinds, fried crisp while tender inside. Dunked in pobalno cream and squirted with lime & bus driver (house-made hot sauce), they are equally savory as they are naughty.
Be still my beating heart and clogged arteries. The corn chip classic is given a Centeno makeover with luscious lengua (tongue) chile con carne, house-made crema,mulato pepper. Yum!
Temper the hearty with this light and lovely melange of braised fennel, crunchy peas,
queso fresco, and popped amaranth, an Aztec grain.
The San Antonio signature, the puffy taco, has landed in L.A. Named for its deep-fried, tortilla shell, we opt for the house-made chorizo. While others have raved, ours arrived soggy and sparse on the fillings. Will try again next time...
Although stuffed, I hadn't had sopapillas since my Caliente days. Deep-fried, tortilla pillows are dusted with powdered sugar & honey. Served with Mexican hot chocolate-spiced with chili, cinnamon, and Oaxacan sea salt, this is a sweet finish to our feast.
Before Bar Amá, my Tex-Mex memories were a tequila-tainted haze from my Caliente stint. Now, I'm able to get my agave and eat deliciously, too.