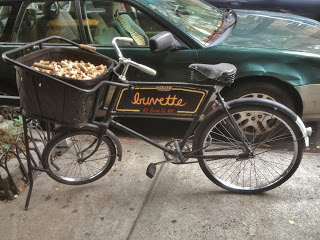 Buvette West Village
eat: Terrine de Campagne, Carottes Rapées, Poulpes, Tarte Tatin
sip: Arneis
buvette noun (f)
1. a refreshment stall or counter
2. a snack bar at a theater, train station, beach, etc.
In French, and English for that matter, the diminutive "ette" connotes feminine (coquette) or little (cigarette), so it is implicit that buvettes are small. Buvette, Jody Williams' Gallic gem, is indeed petite, but that's all it has in common with it's casual joints across the Atlantic. Chef Williams' version--which she calls a gastrothèque-- is a pleasure chest of French delights, from fresh-baked croissants and housemade charcuterie, to classic coq-au-vin and cassoulet. It is spot-on-Parisian without being too precious, yet with the amiable waitstaff, you avoid the oft French tradition of snooty service.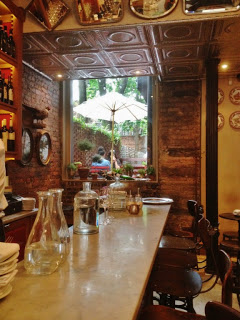 Tucked away on a picturesque, tree-lined, West Village street, Buvette feels at home amidst the gorgeous boutiques and fashionistas who frequent the neighborhood. Inside the beautiful spot, tin-coffered ceilings, a zinc-top bar, an idyllic garden, and exposed brick walls make for an inviting and aesthetically-pleasing setting. Waiters sport classic, striped aprons with a touch of personal style, like bow-ties.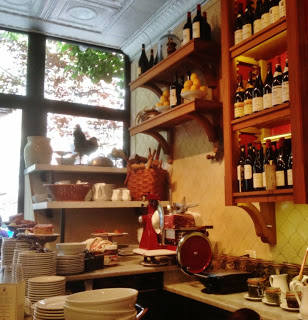 Making most of the minimal space, the primary decor element is the food itself. Jars of cornichons & olives, bottles of wine, a jambon slicer, baked goods, baskets of fruit, and an old-school citrus press adorn the café, creating a homey, culinary collage. Accompanied by my foodie friend, Shari, who I met while studying in Paris, we are equally smitten with Buvette's likeness to our favorite French haunts.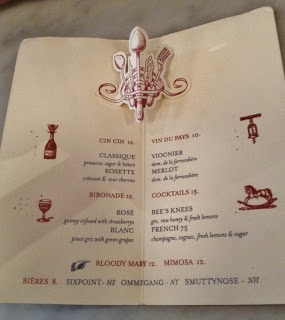 The pop-up cocktail menu: whimsy that works.
Our waiter suggests Arneis, a Piedmontese white. This light and crisp wine with hints of pear is a lovely daytime quaff. One wall of Buvette features a chalkboard wine map to help geographically guide your sipping selection.
Don't be fooled by the diminutive size. Each morsel of this country-style terrine is packed with porky pleasure. Wrapped in bacon, the smoky, intense pâté is served with a briny trifecta of cornichons, olives, and, my fave, caperberries. It is served with a delectable, house-baked Pain de Campagne
Carrots are elevated to star status in this simple salad. A mélange of grated carrots, pistachios, lemon, and vinegar is surprisingly delightful. It's just the thing for a hot, end-of-summer day.
Ordering octopus is risky for it is so often incorrectly cooked (a.k.a. rubbery). Here, the cephalopod is perfectly prepared and deliciously tossed with capers, shallots, olives, and refreshingly crunchy celery.
Tarte Tatin
Throughout our meal, the tarte tatin teased me from its perch in my line of sight. Sweet & gooey caramelized apples are crammed into a buttery crust and topped with tangy crème fraîche. Stick a fork (or two, which our waiter so attentively did) in it - I've found taste nirvana.
When we are presented with our bill, it is inscribed with the colloquial French translation: la douloureuse. While its primary definition is "painful", here the word jokingly refers to the distress of having to dish out dollars. I can't help but think that after such a lovely meal at Buvette, it should be called "happiness" (le bonheur) instead.