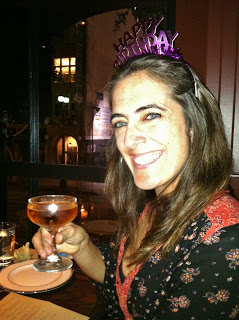 The Parish Downtown LA
eat: Deviled Eggs, Chicken Liver Toast, Pork Shoulder Poutine, Celery Root Mash, Sunchokes, Chicken Wings, Grilled Shrimp, Fried Chicken, Sticky Toffee Pudding
sip: Hubert & Blegér Crémant D'Alsace Rosé, Black Bee, Disco Nap, Amaro
Thank goodness for girlfriends.
Mine are especially rad with their simultaneous beauty, sass, and smarts, traits that could induce extreme envy, but instead keep me inspired. Most of them enjoy eating (these aren't those "I'll just have a salad, hold the dressing" kind of gals), yet I'm admittedly the gourmandette: the one who insists on ordering multiple desserts, who finishes everything on our shared plates, and who has a penchant for all things porcine. Hence, my ladies let me pick the location for our monthly dinners. For my birthday, I chose the Parish.
Considering my love for Tasting Kitchen, Chef Casey Lane's Italian-inspired gem in Venice, I had a hunch I'd dig The Parish, his new, Downtown gastropub. As a foursome, I knew we'd be able to tackle a good chunk of the menu, which brims with comfort food -- fried chicken, poutine--with ethnic twists. That night was our first rainy eve of the fall--perfect weather for feasting. What followed was an unforgettable meal. We ate like men, both in quantity and gusto, battling each other for each last morsel.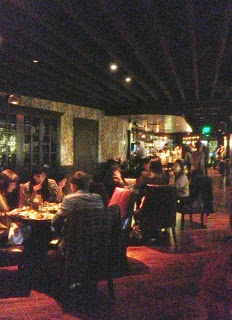 Located in a triangular building reminiscent of NYC's iconic Flatiron, the Parish feels decidedly urban. Spacious windows and outdoor patios offer intimate views of street life and traffic . The cosmopolitan vibe continues inside. At the inviting bar, polished steel taps, gleaming glassware, and aproned bartenders beckon you to linger over drinks. With vintage photographs, tawny wood floors, wallpapered walls, and a cozy candle-filled fireplace, the dining room has the familiar, masculine warmth of an English pub.
"Too much of anything is bad but too much champagne is just right" - F. Scott Fitzgerald. One of the many boozy quotes that decorate the drinks menu, this one was particularly pertinent thanks to the bottle of bubbly gifted by my good friend, Hollis. A burst of chilled strawberries, the Huber & Bléger Crémant D'Alsace Rosé was perfect for getting the party started.
The manly and magical Black Bee is composed of house-barrel bourbon, stout, lemon, honey. Each ingredient compliments the other, with the stout giving it a welcome, bitter coffee zing.
Grappa--which our waitress aptly dubs "Italian Moonshine"-- is normally too heady for my taste. But this libation, made with Prosecco grappa, Aperol (a bitter orange liquor), muddled lemon and a sprig of mint will change the way you think about the g-word. A feminine drink with heft, like a woman in a Botticelli painting.
An abundance of SoCal brews on tap give the Parish local cred. Try Eagle Rock's Manifesto, a citrus-y, wheat beer, and Ladyface's Red Rye, a nice balance of bitter and hops.
Warning: a seat at the bar can lead to impromptu tastings. On my inaugural visit to The Parish, my amiga, Alyce, and I got an in-depth Amaro lesson thanks to Brian, our affable--and barely-legal looking--bartender. The bitter digestivo varies depending on the producer: the Amaro Meletti has a unique, saffron spice while the Amaro Montenegro has hints of orange and clove.
It's hard to go wrong with this classic nibble. Here, they are emboldened by pickled chilis, giving them more kick than the usual dusting of paprika.
Who needs foie-gras when chicken liver is this decadent? This macho pâté is intense and gamey, coarsely chopped, and garnished with thick bacon. It's a tie with Mozza for L.A.'s leading liver.
This Québécoise has poutine in her DNA. Like other iterations around town, cheese curds and gravy are given a gourmet makeover. Cubes of homemade paneer and a porky, chili-scented sauce replace curds and gravy. Succulent chunks of pork shoulder are the pièce de résistance.
A crowd-favorite, this is more than the average mash. Celery root is more complex than its tuber cousin. Topped with a naughty dollop of harissa butter, it's gluttonously good.
As succulent and squishy as escargot, these sunchokes reign supreme. They are delectably tossed with balsamic roasted shallots, watercress, and salsa verde.
Morocco meets shrimp when served with cumin-roasted carrots, black olives, fried chickpeas, and mint yogurt. This wood-fired goodness is a refreshingly different way to eat shrimp.
Using quality wings, not the stringy counterparts so oft served in bars, this haute rendition is beer-laquered, sticky sweet, finger-licking yum.
The chicken is so juicy good that my gluten-free friend savors the bird even when disrobed of its mouthwatering skin. Roasted brussels and braised greens balance out the fried. Yet another terrific version of a culinary trend.
Due to an ordering error, our dessert is served simultaneously with our fried chicken. A high-brow hybrid of a low-country classic, chicken and waffles, we get our savory with our sweet. The moist, brown-sugary cake bathed in toffee sauce is too good for four girls to politely share.
While the food indeed rocks, the friendly and skilled staff ensure an excellent time at the Parish. Case in point: instead of sneers at my silly birthday tiara (thank you, Barndi), genuine well-wishes were said by all who passed our table.
FYI, the Parish just launched a morning menu (fresh-baked pastries and breakfast biscuit sammies) and Happy Hour with nibbles, discounted drinks, and communal punch. Even more reasons to return as soon as possible!