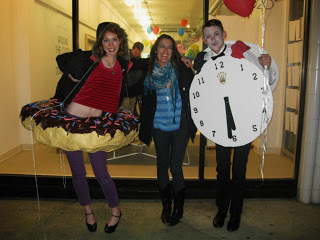 Donuts are the new black.
The ubiquitous, frou-frou cupcake has been trumped by old-school goodness. It's only fitting--with the food scene going back to basics--that this old-fashioned orb is back in fashion. In L.A., donut shops are a dime a dozen, most notably Randy's, the landmark shop (and my preferred LAX pit-stop) that is topped with a 3-story-high donut. Donuts are no longer restricted to restaurants; this weekend, they star in their very own art show at ForYourArt's Around the Clock: 24-Hour Donut City II, LACMA's Choice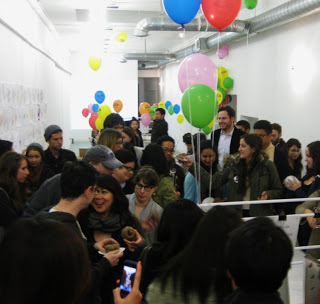 In conjunction with LACMA's screening of The Clock, Christian Marclay's epic, 24-hour film (a dazzling montage of time-related film clips), ForYourArt gallery is hosting an all-night fiesta, featuring donut costumes, a communal, coloring table, and FREE donuts from various shops around town. What's the connection between clocks and donuts? In form alone, both are circular. Secondly, many donut shops are open 24-7, aka around the clock.
I attended the inaugural Around the Clock: 24-Hour Donut City in March. Many art events reek of pretension, but this was utterly laid-back. I mean, when was the last time you went to an art gallery and instead of black-clad, hipsters sipping vino, you get a convivial crowd clamoring for fried food? The guests consisted of an eclectic array of Angelenos, including kids and couples adorably feeding each other.
During my visit, I sampled three tasty treats. From SK's Donut & Croissant (a 24-7 joint nearby), I had the Blueberry Cake Donut. It was moist, fluffy and sugary-sweet like kid's breakfast cereal. Thanks to Bob's (at the Original Farmer's Market), I devoured the Old-Fashioned and Cinnamon-Sugar donuts, both fantastically fresh and plump versions of these classic flavors. This time around, ForYourArt queried LACMA employees for their favorite donuts, elevating the menu to a professionally-curated experience.
The festivities run from noon Saturday, Sept. 22nd to noon on the 23rd. Click here for the donut schedule. Between the film and the fried deliciousness, make time to check out Levitated Mass, the ginormous piece, er, boulder on the North Lawn, and Metropolis II, Chris Burden's bustling, car-centric sculpture. For your alcoholic pleasure, grab a hand-crafted cocktail at LACMA's Stark Bar
.On it's own,The Clock is a masterpiece. Coupled with donuts, it's double your pleasure. Add the rare treat of being out in L.A. after 2am, and this is an event you won't want to miss.