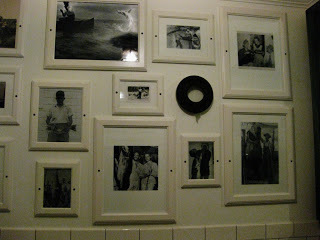 Son Of A Gun West Hollywood
eat: Smoked Mahi Dip, Brandade, Puntarelle, Local Squid, Hiramasa, Octopus Confit Salad, Mussels, Escolar, Steak & Oysters, Peach & Raspberry Pie, Frozen Lime Yogurt
sip: Domaine De La Renaudie Brut, Lacryma Christi Vigna del Vulcano
Dreams of clam strips are dancing in my head. Tonight, I head to my Connecticut, childhood home, where I will load up on fried fish, butter-sautéed scallops, and lobster rolls . Living in L.A., land of many flavors, I have my pick of international eats, yet I lament the lack of seafood shacks of my youth. Sure, there's the PCH standbys, Neptune's Net and Reel Inn, and Santa Monica's BP Oysterette, but head inland and the choices are slim. That is until Son Of A Gun came to town.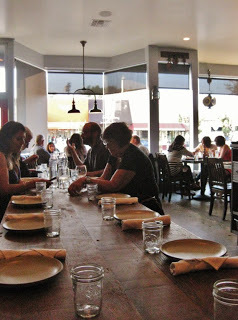 At Son Of A Gun, pescatarian prowess is brought to you by the masters of meat, Animal's Jon Shook and Vinny Dotolo. Their whimsical menu of maritime delights teems with fresh-caught goodness. Imagine the simplicity of an East Coast joint with West Coast flavors (Mexican habaneros and Asian yuzu), farmers' market finds (purple artichokes and black garlic), and the gastronomic gusto that have made Shook and Dotolo famous.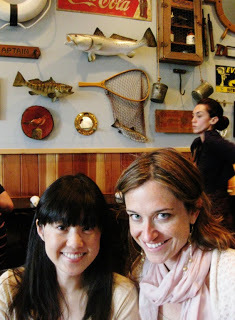 Nautical knick-knacks cover the sky-blue walls, captain chairs line the bar, and black & white fisherman pics decorate the bathrooms. Checks arrive on anchovy tins and cocktails come in mason jars. The hip, plaid-shirted waitstaff is knowledgeable, laid-back, and so friendly you want them to join you. Each time I've dined here--at the communal table or not--conversation with neighboring diners ensues whether offering fries to taste or recommending favorite dishes. We forget we are on bustling 3rd Street in L.A.--inside, we are in a cozy, seaside haunt along the Atlantic. Even in L.A., where summer never seems to end, this place smacks of summer.
When eating fish, I prefer a chilled white wine or a glass of bubbly, like the toasty Domaine de la Renaudie Brut. Also on deck are microbrews, classic cocktails, a refreshing shandy, even alcoholic tiki-cones!
I'm half-Jewish, but 100% obsessed with smoked fish. Here, a tasty dip of smoked mahi mahi, mayo, and lemon comes with a garden-fresh garnish of celery ribbons, onions, and paper-thin radishes. What better way to start off a fishy feast?
Best of the bunch (if there can be just one). On its own, brandade--salt cod potato purée--is great, but with an oozy, poached egg on top, it is transcendent. With grainy mustard and a generous handful of arugula, this is a one-dish wonder. The accompanying fried bread is scandalously good.
Puntarelle, a bitter, dandelion-like green, is mixed with earthy Fava beans, baby purple artichokes, chaparral--a tangy, local sheep/goat cheese, and lemon. Seasonal bounty at its best.
As colorful as fruit cocktail, Hiramasa (aka yellowtail) is tossed with serrano chiles, peaches, and yuzu, that delightful citrus that marries tart grapefruit and sweet orange.
The plate is so pretty with purple flowers that I don't want to disturb it. Local squid is both braised and fried, with Texas caviar (aka black-eyed peas), black garlic, and a brilliant invention they dub "corn butter".
Love the unique preparation of the octopus, which is braised, sliced thin, then grilled to charred perfection. It is deliciously tossed in a vinaigrette with pickled mirepoix, chickpeas, radicchio and parsley.
Visually, the mussels look naked without their shells, but their lack of coverage allows the delectable Pernod, cream, tarragon, and fennel broth to penetrate these bivalves. Like skinny-dipping, some things are better nude. Soak up the anise-y broth with fried bread or a la carte frites.
One of my favorite, yet hard to find, fishes, escolar is as succulent as salmon, yet firm & white like swordfish. Here, it is roasted crisp on one side and served with luscious, truffled pomme purée, sautéed mushrooms, and chicken jus. A hearty meat & potatoes dish for pescatarians. Warning: escolar is known as the "eat and run fish" (I'll let you figure that out), but thankfully I'm not one who gets affected.
Not surprisingly, their version of "surf and turf" is scandalously rich. Succulent chunks of Niman Ranch hanger steak cozy up next to crispy, fried oysters. Bathed in a buttery Bérnaise and topped with fresh tarragon, it's "surf and turf" one could only expect from chefs nicknamed "Two Dudes".
This deconstructed key lime pie is a tasty twist on a classic. Tart lime fro-yo + graham cookie crumbles + a toasted smear of meringue = yum.
An homage to summer fruit, this is pie perfection. The warm & gooey fruit is cooled by tangy, buttermilk ice cream. The caramelized crust is reminiscent of a sugary, crème brûlée top. For me, the best pies are those that can be eaten for breakfast - this one definitely fits the bill.
The magnificent, and incredibly popular, fried chicken sammy is not pictured because, er, my hands were covered in coleslaw and Sirracha aioli. You can check out my previous post on their lobster roll here.
When Son Of A Gun first opened in March '11, reservations were as hard to score as court-side, Lakers tix. The hostesses would amicably invite you to try the first-come-first-serve communal table, yet even that was inpenetrable. Hindered by the hype, I avoided the restaurant for 5 months, until my hankering for seafood got the best of me. One year and many meals later, Son Of A Gun is still busy, but easier to visit. Nevertheless, I suggest going mid-week or off-hours to ensure you get your fish on.