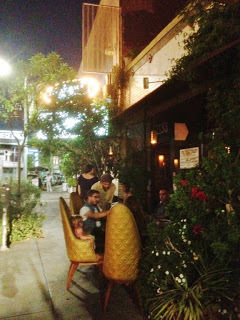 Elf Cafe Echo Park
eat: Tahini Avocado Purée, Baked Feta & Tomatoes, Mediterranean Lentils, Spicy Kale Salad, Vegetable Tagine, Savory Crepe, Braised Portobellos, Pear Tarte Tatin
Vegetarian. One word so plump with connotations. Practicing produce-eaters proudly wear it like a badge, while carnivores utter the v-word disdainfully, as if it's a disease they hope to never catch. I tend to veer towards the latter, for as an ardent omnivore, I crave meals that feature all the food groups. I want my sautéed kale with a rib-eye, my Blue Lake beans with pancetta. Consequently, I seldom frequent vegetarian restaurants, until I discovered Elf Cafe.
What differentiates Elf from the usual veg-o-bistros, is that Chef Scott Zwiezen doesn't employ the standard practice of recreating veggie versions of meat classics, which often leads to bland, unsuccessful dishes (mock reuben, anyone?) . You won't find faux-anything on the menu--just straight up, bomb-ass vegetarian food, thanks to the abundance of organic ingredients and flavorful, Middle-Eastern spices. Vegans and gluten-free folk will also find plenty to eat. Elf showed me that vegetarian fare can be just as hearty, tasty, and even as naughty as its carnivorous counterparts. They do it without being preachy or shoving anti-meat dogma down your throat. It's all about the vegetables, baby.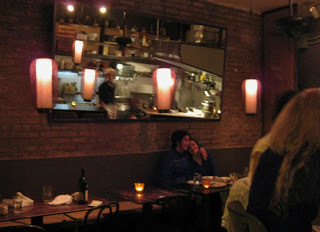 Upon entering Elf Cafe, you'll be welcomed by Astara, one of the co-owners, who is as equally ethereal as she is enthusiastic. Cozy is an understatement at this intimate, jewel-box of a space, with exposed brick-walls and sultry, low lighting. Inside, tuck into a table or eat at the kitchen-side bar. Outside, watch the Echo Parkers strut by.
Every meal at Elf begins with an amuse-dip: a thoughtful gesture considering that even bread & butter doesn't come for free these days. Here, smoked paprika perks up your palate for the upcoming eats.
Dreamy and creamy, this Arabic-spin on guacamole is adorned with wrinkly, black olives and roasted garlic.
The baked feta has browned, crisp edges reminiscent of Mac and Cheese--a carb-free version of a childhood fave. Accompanied with more of those tasty, Moroccan olives and roasted tomatoes that smack of summer.
While I like my kale uncooked, sometimes it feels like I'm eating pure roughage. Here, raw kale is gussied up with charmoula (cilantro, parsley, cumin, cayenne) dressing and harissa (Moroccan chili paste). Topped with avocado, this is the best kale salad in town.
This hearty bowl o' comfort features farmers market veggies bathed in traditional Moroccan flavors, like cumin, turmeric, and paprika. Served with quinoa and a side of the aforementioned, homemade harissa, for those who crave an extra kick.
The 'shroom brims with a decadently,creamy goat-cheese risotto. Combined with luscious mashed potatoes, tender asparagus, and a charred tomato, my friend, Tara's, one-word review says it all: "Transcendent".
Browned-butter goodness, with crunchy pistachios, tangy pomegranate seeds, and a crock of heavy cream for good measure.
FYI, Elf is cash-only and BYOB, but an ATM and booze can be found a few doors down at King Liquors, which is stocked with micro-brews, but mediocre wine (so plan accordingly). Reservations are encouraged, but you can expand your beer horizons while you wait at adjacent Mohawk Bend. Elf will be expanding soon, so go soon if you want to catch the original, adorable version that has been delighting me for the past six years.