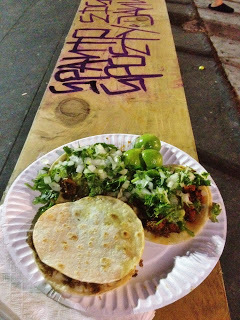 Taco Zone Echo Park
Vons parking lot on Alvarado/Morton. Open 8pm to 2am(ish) most nights
In my suburban CT childhood, there were two types of tacos. 1. Salty, spice-packet-seasoned beef in a hard shell from Old El Paso. 2. Gringo-style, cheesy bombs from Tacos Or What, a local joint frequented by high-schoolers and hungry stoners. Neither were remotely authentic, but they were good, cheap fuel for my enormous, adolescent appetite.
When I moved to Los Angeles -- aka Little Mexico -- I finally tasted tacos in their natural habitat. Like pizza in NYC, tacos can be found everywhere, whether at car washes, local tiendas, on street corners, or at the ubiquitous taco trucks. Just as Angelenos each have their preferred route to LAX, everyone has their own personal, favorite truck, which they emphatically believe to be the BEST. Like on Yelp, disparity abounds; a revered truck for one can be revolting to another.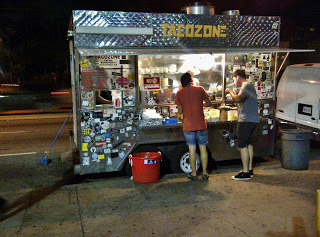 My go-to lanchera is the Taco Zone, conveniently located in walking distance from my Echo Park home. The "Zone" (as us fans like to call it) is run by smiling ladies who are as friendly as they are tough; they survived a fire-bomb attack by competitors and, one night, they threw tongs at a man who tried to steal their tip jar. They also let me order in my feeble Spanish without a whiff of mockery.
Taco Zone is frequented by an eclectic bunch: Eastsiders, Dodger fans with post-game munchies, hipsters from surrounding bars, and Mexicans craving food from their homeland. One night, a Jalisco man tells me that the Zone is the only place he'll order tripe in the States, an affirmation of their authenticity. On line, we are all equal. We are all seeking the same holy grail: tacos.
All of my visits to the Zone have included their irresistible al pastor, L.A.'s finest chili-spiced, barbecued pork. I also adore the succulent suadero (brisket) and the tender cabeza (cheek) too. While the meat is top-notch and tasty, their accoutrements are equally amazing. Super-spicy habanero salsa, fresh cucumber and cabbage, chopped onions and cilantro, and an avocado, tomatillo, jalapeno sauce that is so delectable I've contemplated chugging it on its own.
Burritos and quesadillas are also available, but I recommend the off-the-menu mulitas, a meat & melted cheese topped corn tortilla that can be munched open-faced or sandwich-style.
I'm normally not a fan of food trucks, both because of the long lines and my penchant to leisurely linger over a meal, but for fast-food, late-night bites, or post-dance class eats, the Taco Zone is where it's at.
Some of the other neighborhood trucks have flashy, LED signs and even tables for al fresco dining, but Taco Zone doesn't need those bells and whistles. In the parking lot perched atop my Honda's hood, this is L.A.-style dinner theater: cheap and delicious.