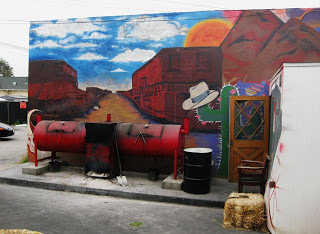 Swingin' Door Texas BBQ North Hollywood
Unleaded, Supreme, or Tri-tip? Leave it to L.A. to have bomb-ass BBQ at a gas station.
Just as the name implies, Swingin' Door Texas BBQ serves up authentic 'cue from the Lone Star state. Located on a nondescript, Noho corner, it's easy to miss, in spite of the two giant smokers out front. Look out for a bright, hokey Western mural, a wagon-wheel lined patio, and bales of hay. The cowboy kitsch not only detracts from the unfortunate proximity to gas pumps, but is a sweet n' cheesy homage to Hollywood production design.
Follow the fragrant smoke through the swingin' (alas, glass) door. Inside, effort has been made to spiff up the stark space, with painted brick trim and cowboys and "wanted" poster wallpaper. Mosey up to the counter where friendly staff take your order. The menu features the usual, smoked suspects, with quality ingredients like organic chicken and Angus beef.
My hands-down favorite, the brisket sandwich, is the best I've had in town. The moist morsels of meat are, dare I say, succulent, especially after my share of overly-dry brisket. Slathered in sauce, the beef has just enough fat to add flavor without causing a coronary. The accompanying pickles are even better when stuffed in the sloppy sandwich. Homemade coleslaw is simple, but offers a refreshing crunch.
Like the brisket, the ribs are tender, tasty, and not overwhelmingly fatty. The finger-licking good BBQ sauce comes mild or spicy, the latter a mellow, peppery heat. If you crave more kick, the Hot Sauce Zone offers a plethora of piquant selections. The mac and cheese is decent, more appealing for its nostalgia than its flavor. Wash it all down with sugary-sweet lemonade. I had no room for dessert, but the state fair favorite, deep-fried Twinkies and Oreos, is available for the adventurous.
For my fellow costumers who work at Western Costume Company, Swingin' Door Texas BBQ is located just across the street. For all others, it's worth the trip. After all, the Valley isn't as far as Texas.