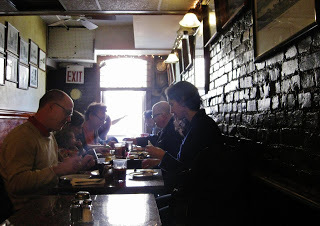 Brooklyn. Whether you love it or love to hate it, it is the holy grail for explorers of the edible. Throughout the borough, ethnic enclaves serve up regional fare: Russians in Brighton Beach, Hasidic Jews in Williamsburg, and Italians in Carroll Gardens. Let's focus on the latter, a neighborhood I once called home. In Carroll Gardens, the streets are peppered with old-school Italian joints, pastry shops, and seasoned butchers, whose friendly paesanos affectionately call you "sweetie" without any hint of sexism. While authenticity & flavor abound, you also get big portions, affordable prices, and the simple joy of knowing that your dollar is helping a local business. Following are three long-standing classics whose lack of websites mean you'll have to check them out the old-fashioned way: in person.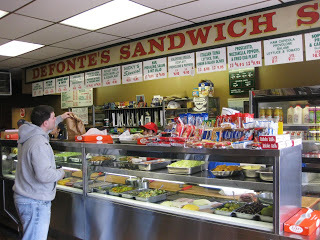 Defonte's Sandwich Shop 379 Columbia Street Red Hook
Head under the BQE to an unassuming corner of Red Hook for this historic house of heroes. Open since 1922, Defonte's is a true neighborhood joint, dishing up hot prepared food and those famous hearty sammies. Opt for the Italian Stallion - prosciutto, fried eggplant, roasted peppers, and fresh mozz made in-house. There's no seating--many regulars are workers who eat in their trucks parked outside--but the waterfront is a 15-minute walk away. Picnic Brooklyn-style, watching ships sail by with a primo view of Lady Liberty.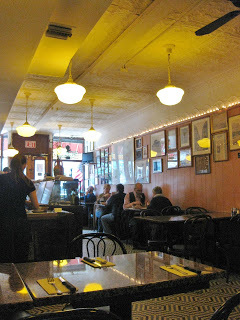 Ferdinando's Focacceria 151 Union Street Columbia Street Waterfront
Time stands still in this century-old restaurant of Sicilian specialties. Whether you chose the sunlit front or the dark, exposed-brick back area (pictured at start), the interior is comfortably charming, with a vintage tiled floor, coffered ceiling, and old-timey black & white photos on wood-paneled walls. Start with arancini, which are not the mini street-food-size you may be accustomed to. These are breaded and fried baseball-size bombs of ground beef, peas, and rice. Go for the gusto--topped with ricotta, tomato sauce and cheese.
Many frequent Ferdinando's for their panelle, a deep-fried, chickpea patty. It comes on a chewy, white bun with homemade ricotta cheese. In these days of healthy eating, I know that "white food" is a no-no, but make an exception for this deliciously simple sandwich.
Continue with the eggplant parmigiana, a two-handed winner that is as sloppy as scrumptious. Wash it all down with ice-cold Peronis.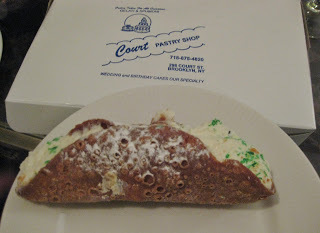 Court Street Pastry 298 Court Street Carroll Gardens
Get your dolce at this wonderland of Italian cookies, cakes and pastries. Their cannolis are divine - crunchy, cinnamon-y shells filled with creamy, rich ricotta.
Around the holidays, they sell traditional sweets like sanguinaccio, an Easter chocolate pudding sweetened with pig's blood. While that may sound downright disgusting, the blood is barely noticeable and imparts more salty than meaty flavor to this dense, almost gritty pudding.