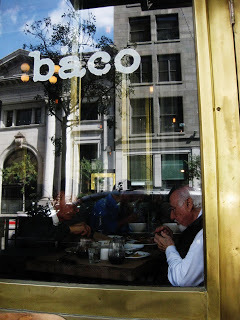 Bäco Mercat Downtown
eat: Toron Bäco, Mushroom Coca, Caesar Brussels Sprouts, Crispy Favas, Creamed Spinach, Wild Boar, Goose Confit, Chocolate Peanut Butter Cake, Banana Cream Pie
sip: G.B. Long, Gin-pop!, R.B. Italiano
What is my aversion to writing about my favorite restaurants? It's not a question of selfishness, and that I want to keep them all to myself for fear of overcrowding. Quite the contrary--I want to scream from the rooftops about their excellence and share unforgettable meals with friends. No, I am afraid that my words won't adequately describe their awesomeness. Like a letter to a new love, I want each sentence to wholly embody my emotions, yet fret about misinterpretation. To quell my fear, I'm going to take a cue from teenagers, who use pictures, not words, to express their adoration (see: sexting) After my first meal at Bäco Mercat, Chef Josef Centeno's eclectic, comfort food joint, I was speechless. Now that I've returned, I'm officially obsessed with this pleasure palace. Let the slideshow begin...
My first visit was on aptly auspicious Leap Day. With work friends, we lingered over a long lunch on the patio, warmed by winter's sun and entertained by downtown's theatrical sidewalks.
A lovely libation of Campari, Grapes, and club soda for a sunny day. Peppy, potent, and oh-so-pretty in pink.
A stellar sandwich, thanks to orgasmic oxtail (never thought I'd write those 2 words together), a pan-fried potato cake, pickle, arugula, chedder, and Centeno's signature bread: doughy deliciousness reminiscent of NYC's Momofuku pork buns.
A decadent spin on an old standard, served warm and bathed in olive oil.
The aforementioned bäco dough becomes coca, a cracker-crisp flatbread. Topped with earthy, sautéed shrooms, sage, and pecorino, it's a walk in the Italian woods.
Adorable, but not sweet. Fresh banana pudding fills up a flaky, buttery bowl, lined with brandied butterscotch, no less.
For dinner, we dine inside. Thanks to the building's beautiful detail--brass-lined windows and soaring ceilings--fussy decor isn't necessary. I dig the vintage wood desk chairs and a rare, restaurant feature: well-spaced tables so you aren't smothered by fellow diners.
Gin-Pop! (left) Gin, bäco pop, ginger shrub. The housemade pop (orange, ginger, juniper soda) adds zing to this delightful quaff. On the right, R.B. Italiano: bourbon, Ramazzotti Amaro, root beer reduction, tonic. A childhood fave for grown-ups, thanks to herbaceous Amaro and smoky bourbon.
Welcome back, Spring! Seasonal goodness done simple with mint and sherry vinegar.
Another phenomenal twist on a classic with bacon, mushroom, and persillade. More like a gratin, with a blistered, brown top and gooey cheese. Rich is an understatement.
"A fancy Philly Cheesesteak" describes our waiter, but only in regards to style (meat+cheese+bread) not substance. More like a savory millefeuille, each layer is sublime: buttery bread, succulent, slow-cooked boar (aka sugo), pungent emmental, pickled onions, and a heap of sprouts.
A "niçoise salad" is the apt metaphor for this Gauguin-colorful dish. Unctuous goose, tangy blood oranges, pickled radish, bitter treviso, peas, and pear mostarda (a mustard/fruit relish) make up a veritable rainbow of yum.
The ubiquitous molten chocolate cake gets upgraded with a welcome wallop of peanut butter, both hot (melted inside) and cold (ice cream). "A giant peanut butter cup" proclaims my friend, Barndi.