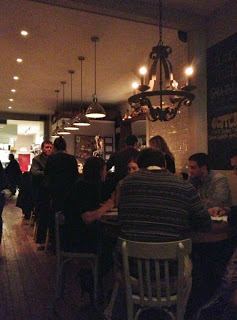 Tuck Shop Montreal
eat: Onion Bisque, Crab Salad, Wild Boar Duo, Lamb Shank, Cobia, Apple Pie
sip: "S" Sao Del Coster Priorat
Like Vienna's Wiener Schnitzel and Naples' pizza, Montreal boasts her own gastronomic stereotypes: poutine, smoked meat, bagels, and, more recently, pig-centric cuisine (see Au Pied De Cochon). While indeed they are delicious (and naughtily not nutritious), after dozens of family trips to the City Of Stars, I was eager to venture beyond the culinary cliché. My newfound friend and native Montrealer, David, guided me on this edible expedition. Luckily, he led me to Tuck Shop.
Located off the beaten path in gentrified St. Henri, Tuck Shop is a homey, intimate, seasonally-driven spot. With the zinc bar, subway-tiled walls, pendulum lamps, and chalkboard menu, Tuck Shop could be in Brooklyn or other hipster 'hoods, but what grounds it in "Mount Real" is the staff's oh-so Canadian affability and the use of regional ingredients, like wild boar and lamb. In fact, David has personally foraged mushrooms for Tuck Shop, guaranteeing its commitment to local flavor. Whether you sit at the zinc bar, the cozy banquette, or, like us, nestled against windows steamy from the outside cold, you are guaranteed a good time.
If you share my predilection for pre-dinner cocktails, a full bar is on hand. We keep it classic with an Old Fashioned and a Martini, both perfectly mixed. Next, we savor the "S" Sao Del Coster Priorat, a full-bodied Carignan & Grenache blend that is soft, supple and wonderfully fruity without jam-ification.
Lucky for us, the soup du jour is a luscious, roasted onion bisque adorned with buttery croutons. It is so creamy good that David slurps it all, nullifying our agreement to share. Our amiable waiter brings me my own bowl, both out of kindness and to prevent a tableside tussle.
A deconstructed version of the East Coast's classic crab roll. Fresh crab is tossed with fennel, radishes, and celery on a bed of butter lettuce and white bread. Topped with bacon for good measure, this crunchy and refreshing salad wakes up our palate.
Double the pleasure, pig two ways. 1. Tender hunks of braised boar tucked into flaky perogies. 2. Pungent & gamey grilled leg is drenched in red wine sauce. With sauteed kale, grilled mushrooms, herbed yogurt, and dill pickled beets, this winter-y dish hums with Eastern European flavor.
To dine is to discover. In this case, it is my first foray with cobia, a firm and fatty fish (imagine a thick cut of Chilean sea bass) Served Asian-style, with crispy shrimp, an umami-rich shitake & soy puree, bok choy, carrots, pickled ginger, cucumber and spicy ailoli. This colorful dish is equally pleasing to the eye and the palate.
Braised Quebec lamb shank is slathered with a garlicky gremolata and accompanied by white bean purée, rapini, fennel, olives, and roast peppers. This hearty, Italian-accented dish is a welcome comfort in the winter chill.
Even after our multi-course meal, there's always room for dessert, especially when it's a homey, tasty slice of apple pie à la mode. Turns out our Canadian counterparts know a thing or two about America's quintessential classic.
For me, the word "tuck" has always had pleasant connotations: Tuck Everlasting is a favorite childhood tale and I have nostalgic memories of being tucked in as a kid. After such a scrumptious meal at Tuck Shop, I'm armed with yet another reason to associate the t-word with pleasure.