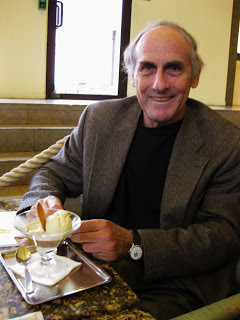 I have my father to thank for many things--my smarts, my indefatigable work ethic, the simple pleasure of napping in the sun--yet there are two which are particularly poignant this Father's Day.
1. My enormous appetite, which is more akin to that of a sumo wrestler than a ballet dancer. Thankfully, I'm blessed with my mother's speedy metabolism, so can chow down without dire, physical consequences.
2. My amour for all things French. Thanks to my father's Québécois heritage, I was seduced by the romantic language at an early age. Dad encouraged me to pursue my passion--for he had always struggled with learning French--and years followed with foreign exchanges, studying in Paris, and trips to Francophone countries. Now, I'm a full-fledged Francophile, as one may surmise from my blog's Frenchy name.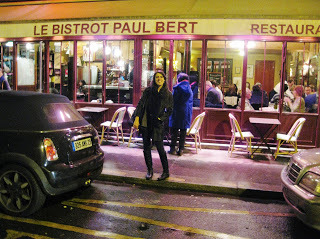 Last January, I accompanied Dad to Paris for a work trip, which wonderfully coincided with his birthday. Since I'm the obsessive eater in the family, he let me curate our dining itinerary. I was left with the challenge of finding a spot to suit both of our needs; none of that nouvelle cuisine--with teeny portions, exotic foams, and exorbitant prices--would do. We needed a bistro with hearty fare to fill our ravenous stomachs yet not empty our wallets.
While Bistrot Paul Bert had received abundant praise from bloggers and guides alike, it was the enthusiastic endorsement by Richard, a childhood friend's father who lives in Paris, that sealed the deal. A personal recommendation trumps all, especially when given by a man who used to make "Chocolate Decadence" cakes as a side business. Located in the 11th arrondissement, Bistrot Paul Bert is packed with locals and tourists alike. The vibe is friendly and convivial, partly thanks to tables so close together that you can't help but converse with fellow diners. The 3-course prix fixe dinner, scrawled on an oh-so-French chalkboard, is a mere 34 euros. How could we resist?
Why does terrine always taste better in Paris? Made in house, this country terrine is remarkably rich thanks to generous nuggets of pork fat. The vinegary, pickled cauliflower and carrots are a lovely, acidic compliment.
When I queried our waiter to define "sot l'y laisse", he explained it was the part of chicken that "only a fool would leave". Us Anglophones refer to it as the "oyster"--the tender morsel of dark meat on the back of a bird. Stuffed with sautéed mushrooms and cream sauce in a buttery, flaky puff pastry, it is a gussied up version of Chicken Pot Pie. I'd be a fool to not have ordered it...
There's a reason why food blogs and guidebooks rave about Paul Bert's steak frites. The rib-eye is charred crisp on the outside, rare inside, with an outer belt of juicy fat cinching the steak. The mouthwatering, fresh-cut frites are magnificent. Note to first-timers: the French like their steak rarer than us Yanks, so rare=saignant, medium rare=á point, medium=bien cuit.
Not the dainty lamb chops I'm accustomed to, these thick cut, honking chops are well-suited for winter appetites. They look so delicious that the woman at the next table changes her order to match mine. The rare meat is rosy pink, enrobed in succulent fat, and served with delectable roast turnips, parsnips, and potatoes in thyme.
This French classic is essentially an upside-down apple-pie kicked up a notch thanks to the browned-in-butter apples. Blanketed in a salty caramel sauce and paired with cool, whipped cream, it is the best I've ever had in Paris and beyond.
This frou frou, donut-esque dessert is made with flaky, choux pastry, filled with luscious hazelnut cream, and dusted with powdered sugar. Though big enough for a party of 4, Dad and I polished it off, whooping with glee after each bite.
I lost my father last September, so sadly this turned out to be our last trip together. During this time of grieving, I'm heartened by memories of our travels together. We shared shark fin soup in Kyoto, schnitzel in Zurich, and digestive biscuits in Oxford. We'll always have Paris, Dad.
Bistrot Paul Bert 18, rue Paul Bert 11e Paris 75011 01.43.72.24.01