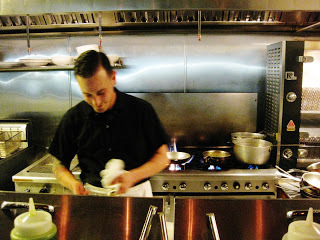 Red Hill Echo Park
eat: Burrata, Cauliflower, Sunchokes, Venison Meatballs, Braised Lamb, Roast Duck, Rotisserie Chicken, Pork Shank, Bread Pudding
sip: Viña Clavidor Verdejo '10, Hedges Red Mountain '08
3 days. That's how much time passed between my first and second visit to Red Hill. Normally, if I enjoy my inaugural dining experience, I vow to come back soon, but then get distracted by new openings, random cravings, and my ever-growing list of Places I Want To Try. It can take months to return. Not so at Red Hill, the 4-month young Echo Park restaurant, where my first time was such a charm, I was lured back immediately.
Red Hill is a true neighborhood joint: it's open 7 days a week, serves 3 meals a day, and is within walking distance to many Echo Parkers. Plus, the prices are wonderfully low considering the quality of the food--if this was Beverly, not Red, Hill, you'd be paying double for the deliciousness. The staff is genuinely friendly, continuing the trend of owner Jason Michaud's other resto, Silver Lake's Local. Chef Trevor Rocco (pictured top) is a zen master in the open kitchen. Even on a bustling Friday night, he calmly orchestrates orders without any visible stress, even stopping to let me snap a photo.
Even white wine naysayers will like this food-friendly Verdejo: a Spanish, medium-bodied quaff brimming with minerality and nectarines
This bountiful blend of red varietals (namely Cab Sav, Merlot, Syrah, and Cab Franc) is plump and smooth, without being overly jammy. Normally only offered by the bottle, our waitress hooks us up with glasses--a generous gesture not uncommon here.
Hello Spring! Burrata's creamy lusciousness is tempered by garden-fresh veggies and a most delectable beet green pesto.
Who knew cauliflower could be so decadent? Browned and buttery, tossed generously with pine nuts, fresh oregano, and a smoky spiced aioli, I wholeheartedly dub this the best brasssica in L.A.
Venison gives gamey heft to the common meatball. Paired with garlicky & smoky eggplant purée and piquant peppers, it's a most tasty trifecta.
Cut in big chunks, these roasted sunchokes become spud-like, yet with that earthy, artichoke goodness that is the hallmark of this vegetable.
Exquisitely crispy skin, moist meat, roast wedges of yam, and tangy whiskey sauce. Thank you, Trevor, for serving duck without its usual, cloyingly sweet accoutrements. Perfection!
"You can always judge a place by its chicken" says my dinner date, Anna. Here, it's scrumptious, not surprising due to the kitchen's rotisserie oven (in full view from our perch at the bar). Served with the traditional sides of greens and potatoes, this is classic comfort.
Thanks to its beer bath, the lamb is savory and tender. Atop a caramelized heap of onions and buttery, mashed potatoes, each bite is satisfyingly good.
Size does matter with this Flinstone-sized shank. No knife required for this fall-off-the bone succulence, which goes swimmingly with hearty greens.
For me, the simpler the better when it comes to desserts. The buttery, piping-hot bread pudding is seductively slathered with a cool cascade of freshly whipped cream. Yum.