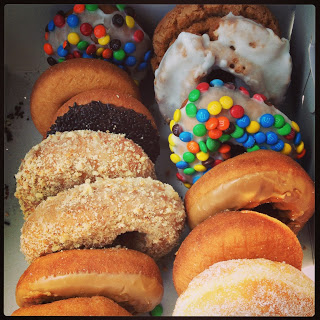 Can I let you in on a Hollywood secret?
Daily donuts. While the Google elite get organic, whole-grain breakfast, us film folk keep it old school with the American classic. Each morning, the craft service table is decked with doughnuts, offering a sweet distraction to our 5 a.m.call. With coffee, the sugar & carb combo packs a potent, energy boost that revs you up for long days of shooting.
In my early days of costuming, I learned my favorite doughnut denomination: Vitamin O. Created by my co-worker, Jim, he used this nickname to trick himself into believing his glazed treat was good for him. What was once considered fattening suddenly became nutritious. Mind over fatter, right?
Tomorrow is National Doughnut Day (..and we are living in a material world...) Based on the Salvation Army's holiday honoring the women who served donuts to soldiers in WWI, the marketing wizards have dubbed the first Friday of June a Day For Dunking. Like mothers and valentines, I come from the camp that celebrating should not be a one-day deal. Nevertheless, I can't resist this doughy opportunity.
From my 3 most well-trodden cities, where to dunk your doughnuts:
Doughnut Plant NYC
What began as a one-man, bike-delivery service has morphed into one of the Big Apple's best doughnut shops. Doughnut Plant handcrafts all natural deliciousness, excelling in filled and cake varieties, which they describe as "a texture somewhere near the intersection of a classic birthday cake and buttery pound cake". My favorite marriage of the two, the Tres Leches, was inaugurated on Cinco de Mayo in 2006. Like its namesake, this vanilla-glazed doughnut is filled with a dairy threesome of evaporated milk, condensed milk, and cream. As they sang in Schoolhouse Rock, three IS a magic number!
In addition to storefronts in Chelsea and the LES, find these dunkers at Joe cafes around town.
Deal Alert: For National Doughnut Day, Doughnut Plant is giving a mini, rainbow sprinkle doughnut FREE with every purchase (while supplies last).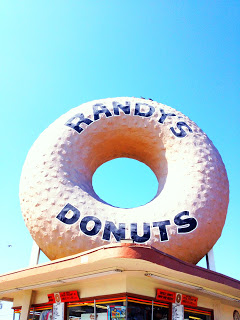 Randy's Donuts Los Angeles
It's a bird, it's a plane, it's a donut! It's hard to miss L.A.'s most iconic display of novelty architecture, the famous Randy's Donuts. Open 24-7, this classic drive-thru is my LAX pit-stop for on-board snacks or welcome-home treats.
My usual is two-fold. In the foreground, the dense, buttermilk bar is shellacked with sugary goodness. Tucked in the back, the wholesome wheat & honey is a fresh-baked spin on my preferred, childhood cereal, Honey Bunches Of Oats.
Deal Alert: Randy's will be dishing out FREE DONUTS for National Donut Day. Morning only - while supplies last. Call for exact times 310.645.4707
Market Mini Donuts Seattle
http://ballardfarmersmarket.wordpress.com/
There's a bit of State Fair fried-ness at the Ballard Farmers Market. Nestled among the rainbow chard and golden beets, Market Mini Donuts fries up made-to-order, bite-size beauties. Opt for a dusting of cinnamon & sugar if you fancy. Best when consumed piping-hot, the steaming bag doubles as a makeshift hand-warmer on cold mornings. Check out the action below (audio by my nephew, Robert)