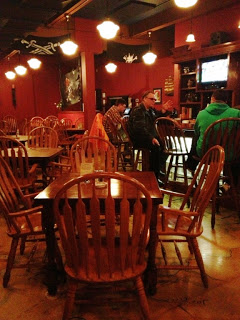 Jolly Roger Taproom @ Maritime Pacific Brewing Ballard
eat: Smokers, Jalepeno Caesar, Green Curry Mussels, Oyster Po' Boy, Steak Frites, Corn Dogs.
sip: Flagship Red, Nightwatch, Cask-conditioned Ales
I like my sports with a side of savory.
The game is the means to the drinkable & edible end. I pick bars based on their non-televised offerings--Belgian Ales, stellar nachos, spicy Bloody Marys, schnitzel. With the Superbowl just upon us, I have memories of my last football outing, or more appropriately "routing", January's BCS Championship. Lured by onion rings and curious about the new & bigger locale of Maritime Pacific Brewery, my sis, her hubby, their son, and I headed to their pub, the Jolly Roger Tap Room
If their former locale was a weathered, small dinghy, the current space is more akin to the clipper that graces their logo; the concrete floor features an antique, nautical chart, wooden booths and tables allow for ample seating, and Captain chairs at the bar offer choice, game-viewing. While the beers are the main attraction, it is the culinary details that draw a diverse crowd. A beer-based demi-glace seasons the steak, a variety of veggies pepper the menu, and homemade hot sauces adorn the tables. I especially liked the jalapeno, cilantro, lime combo, a mild & zesty sauce that goes great with the oceanic offerings.
Maritime offers a rotating array of cask-conditioned ales: beer that is unfiltered and naturally carbonated (aka conditioned) outside of the keg. What results is a smooth, less effervescent brew that is served almost room temp rather than ice cold--an attribute I appreciate in these cold climes. I opt for the easy-drinking Flagship Red, a tasty balance of malt and hops.
Roasted hops give this dark amber ale its toasty flavor, making it one of my favorite Northwest beers. While the Nightwatch is thankfully sold in local markets, nothing beats the creamy head of a fresh-poured draft. Like farm-to-table, this is brewery-to-belly.
Considered the best around town, these onion rings are deliciously smoked with apple wood and hops. Thanks to a signature double breading & double fried process, you avoid the oft-occurring o-ring mishap--when a bite sucks the slippery onion out of its crunchy coating, leaving the breading limp in your hands and your mouth burnt by the disrobed allium. Served with a roasted jalapeno tartar, these thick cut beauties are reason to return.
Ordering a salad at a bar is akin to sushi at Safeco Field. Availability does not ensure edibility. The stereotype is shattered by this South-Of-The Border Caesar. Crispy romaine, cotija cheese, and ancho tortilla croutons are slathered with a kicky, smoked jalapeno vinaigrette. Both smoky and spicy, this hearty salad befits beer pairings.
Plump bivalves are bathed in Thai green curry, giving our meal an exotic zing. Smothered with peppers, fennel, and onions, it is a delicate and delectable dish.
Consider the oyster. With the Puget Sound a few miles away, the Maritime's Po' Boy is as local as it gets. Oysters, breaded and pan-fried golden brown, shredded cabbage, and homemade, roasted jalapeno tartar make for finger-licking good sandwich.
Our perfectly medium-rare steak is slathered with a mouthwatering green peppercorn, Nightwatch Ale demi-glace and melted Stilton. The hand-cut fries would be outstanding on their own, yet the melange of beefy gravy, cheese, and potato metamorphosizes them into a mouthwatering poutine, Quebec's wonderfully trashy, and now-trendy, dish.
A welcome break from the kids menu standards, grilled cheese or hamburger, these mini corn dogs make Robert happy. Luckily, his 3-year old appetite allows for sharing with the grownups.
In spite of its swashbuckling name, the Jolly Roger Taproom is the opposite of rowdy. It is a convivial spot, where you can wash down beers, eat well, and converse during the game without garnering glares. And let's not forget about those onion rings.....