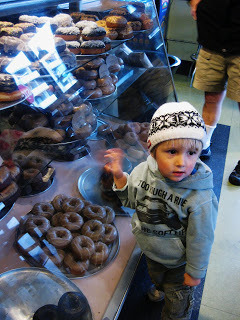 Mighty-O Donuts Tangletown
These are the longest 8 days of the year.
I'm talking about Passover, the Jewish holiday that honors their ancestors' exodus from slavery in Egypt. As the story goes, they fled with such haste that their bread dough had no time to rise. To commemorate this plight, Jews abstain from leavened bread and grains throughout the holiday. For some, especially carb-free folks like Atkins aficionados, this is--pun intended--a piece of cake. Yet, for me, a pasta-loving, beer-guzzling, pastry junkie, these are eight days of eternity (after all, a horizontal 8 = infinity). Since I can't consume my beloved baked goods, why not write about them? It's a bit masochistic, but considering I'm writing this post surrounded by a French Toast pop-up at Fix, my local, Echo Park cafe, perhaps I'm a glutton for punishment.
Having just returned from Seattle, I have donuts on the brain--and in my belly. The Emerald City is home to one of my all-time fave donut shops, the Mighty-O. For a dozen years, the Mighty-O has made their outstanding orbs in a surprisingly healthy way--they are organic AND vegan. When I first heard of these traits, I scoffed at the thought. Only in Seattle, the epicenter of eco-conscious living, would they dare to devise a wholesome donut. However, these are truly some of the freshest, most delectable donuts I've ever had. In spite of their fried nature, they are remarkably light and airy, yet still jam-packed with flavor. They transcend the processed norm --see Krispy Kreme--excelling to the exquisiteness of a fine French pâtisserie.
Our unanimous crowd-pleaser is the Cinnamon & Sugar, a traditional cake donut that is simultaneously fluffy and decadently doughy. The finger-licking topping, amazing on its own, gives good sweet to our Americanos. We also enjoy the Good Ol' Glazed, which doesn't overdo it on the glaze, allowing for the old-fashioned flavor to come through. Simplicity is bliss.
My nephew double-fists the Chocolate Top, a vanilla cake donut coated with cocoa frosting. As one would expect from a high-quality baker, the frosting is just the right mix of bitter and sweet, like a fine bar of dark chocolate from another local & organic fave, Theo's. We also dig the French Toast, a homey, and less-sticky, iteration of the brunch classic.
One of the downsides to an all-natural donut is that they don't keep well. While Mighty-O's are sold all over town, they are best consumed at their cozy shop in Tangletown. Come between 7-9am for freshly-fried goodness and grab a steaming cup of Stumptown for dunking. If the weather permits, Green Lake is just a short walk away.
For those craving a super-size version, hit the road for George's Bakery in North Bend, a 30-minute drive east. Their gargantuan glazed doughnuts are proof that size does matter. Perfect for pigging out solo or sharing with friends.