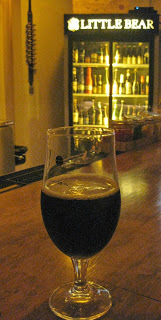 Little Bear Downtown Arts District
eat: Brisket Grilled Cheese, Moules Frites, Grilled Smoked Salmon, Nutella Pot de Creme
sip: Cuvée Des Jacobins Rouge, Ommegang Witte, Bruery 4 Calling Birds, Ommegang Adoration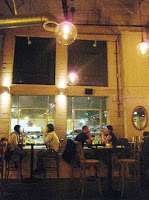 When considering men, there are certain characteristics--culinary prowess, vast vocabulary, willingness to hit the dance floor--that invariably make me swoon. The same holds true for where I choose to eat and imbibe, so I knew I'd like Little Bear--industrial setting, Belgian beer, gastropub--even before I set foot inside.
Located in the Arts District, the up-and-coming industrial 'hood east of Downtown, Little Bear is all about the Belgian. The stellar beer list features both imported and Belgian-style American beers poured by the polar-opposite of Trappist monks: boob-acious L.A. ladies. Experiment beyond the Belgian standbys, Chimay and Duvel, and try a Cuvée Des Jacobins Rouge, a sour Flemish Red Ale full of tart, not overly fruity, punch.
'Tis the season to be local--the Bruery's 4 Calling Birds is a heady Christmas Ale, dessert-like with it's rich molasses and clove spice. From one of my favorite U.S. Belgian-style breweries, Ommegang, try the Witte an effervescent white beer so crisp and bubbly it topples Miller Hi-Life's crown as the Champagne of Beers, or the Adoration, a seasonal, strong, spiced ale.
For eats, effort has been made to surpass the usual pub grub. The Brisket Grilled Cheese is both the best on the menu AND my current citywide champion, with tender ale-braised meat, frizzled onions, arugula and oozing smoked Maasdam cheese sandwiched between super-buttery bread.
The moules were so-so, but their tarragon/shallot/wine/cream broth is drinkably delicious. However, the frites are so good they help support the claim that it was the Belgians, not the French, who created these oil-dunked sticks of yum.
If you are in the mood for healthy, the Grilled Smoked Salmon is moist, flavorful, and well-matched with Beluga lentils, finely-chopped root vegetables, and onion puree.
Fancy a non-liquid dessert? Try the Nutella Pot de Crème, a homey rendition accompanied with hazelnut shortbread--think gourmet Pecan Sandies.
Be warned - it's noisy inside but in a good way (aka laughter, convivial conversation, and boisterous cheers). Little Bear is a versatile spot; the long bar welcomes solo diners, ample space allows for big groups of friends, TVs are tuned to sports, and the low-lighting will flatter your date du jour. Come for the beer, but stay for the food.