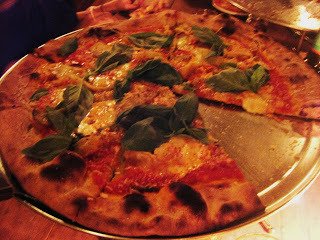 Pizza plays an integral role in my daily diet. There's the slice-on-the-go, which works equally well as a substantial snack or as post-boozing, hangover-prevention medicine. Snuggling on the couch with pizza + a movie = a damn good date night. When I'm too tired to cook, an enormous green salad, a bottle of cheap wine, and a takeout pie makes for an easy and satisfying dinner. Oddly enough, while I adore pizza, I rarely eat it out, instead reserving restaurants for other, less portable dishes. Yet, since I moved to NYC, I have been eating at pizza-centric spots and have had a pie-piphany: pizza shouldn't be restricted to home consumption.
From a culinary standpoint, pizza tastes better piping hot. Sure, a reheated slice makes for good leftovers, but the pizza crust, like a fresh-baked loaf of bread, is undeniably best when devoured instantly out of the oven. On a deeper level, going out for pizza allows you to get closer to the Italian tradition of family-style dining, which embraces the credo that everything tastes better when shared. With my pizza-loving friend, John, as my guide, I recently visited two teeny, yet popular, neighborhood gems. Even though these restaurants aren't literally "family-style", I wouldn't be surprised to witness slice-swapping between tables at these communal spots.
Motorino East Village www.motorinopizza.com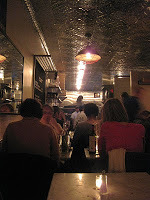 Arriving at Motorino on a chilly, January night, the skinny room is like a toasty oven-- windows are fogged up from feasting diners and the aluminum tile ceiling is reminiscent of a Viking stainless steel stove. It's not-for-the-claustrophobic cozy; the zinc tables are crammed together, allowing for easy ogling at neighboring pizzas. The convivial buzz is enhanced by the soundtrack, which mirrors the workout playlist on my Ipod - Ice Cube, Justin Timberlake, Warren G.
John, a beer man, orders a can of Dale's Pale Ale, a hoppy, American Pale Ale from Oskar Blues, the company that proved cans are no longer synonymous with crappy beer. In winter, I am an ardent fan of sparkling reds, so I select the Cantine Federiciane Gragnano. This light bodied, ruby red from Napoli is listed on the menu as the "Perfect Pizza Wine", a bold statement with which I heartily agree. Whether you think pizza pairs better with bubbly beer or vino rosso, the Gragnano gives you the best of both worlds.
While reviewers have raved about chef/owner Mathieu Polombino's pizzas, the antipasti should not be ignored. We start with a salad for the season: the Beet Salad. On a bed of winter lettuces, sweet beets, red onion, cubes of ricotta salata, wrinkly, black Moroccan olives, mint, and white anchovies are topped with a barely-hard boiled egg. It's hearty without being heavy, salty and refreshing.
John prefers his pizza uncluttered with toppings. While I normally am the opposite, the Margherita here shows that less can be more. It's a tasty trifecta of creamy disks of mozzarella, crispy basil, and a magnificent tomato sauce. In January, when there are still 180 days until garden-fresh tomatoes appear at the market, this toothsome sauce whisks us away to summer.
I order the Brussels Sprouts and Pancetta Pizza, a flavor bomb that has launched Motorino to the top of me and Sam Sifton's "Best Pizza in NYC" list. The mix of healthful sprouts and fatty bacon is a popular pairing, but combined atop an amazing crust (with mozzarella, garlic and pecorino) it's downright sinful. The pizza actually glistens with olive oil and pancetta fat, a definite step up from the bright orange grease that pools under cheaper pies. The stellar crust is doughy, fluffy, and freckled with charred spots. It is wonderful for sopping up my oily slick.
Lucali Carroll Gardens no website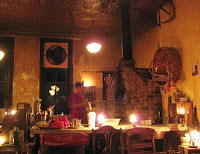 While hip and fun Motorino is smack dab in the restaurant-saturated East Village, Lucali is on a quiet street in Carroll Gardens, a traditionally, Italian-American 'hood. Consequently, Lucali is more quaint and rustic, with a few wooden tables--including a communal 6-seater--scattered about. Unlike the other local, long-standing businesses, Lucali has only been open for half a decade, but it embodies the neighborhood's timeless charm.
The menu is simple, a dream for the indecisive: pizza (large only) and calzone. Basta. Most nights, the owner/pizzaiola, Mark Iacono, mans the brick oven, which is the centerpiece of the room. As if the sweet smell of pizza isn't enough, watching its creation unfold before you is bound to make you salivate. On the night we visit, the place is filled with diners à deux, sharing bottles of wine that they brought from home. To commemorate my recent move to the neighborhood, we bring a six-pack of Brooklyn Brewery's East India Pale Ale, which our waitress happily offers to chill.
The calzone's largess necessitates a knife and fork, which gives us time to savor each bite. Inside the browned, crispy crust, chunks of pepperoni are tucked in massive pillows of ricotta cheese. Somehow, in a feat of culinary wizardry, the calzone is light and airy, in spite of its gargantuan size and the copious use of cheese.
This surprising lightness continues with the pizza, which measures in at 24"--with wine bottles used to roll out the dough. While I tend to prefer thicker pizzas, I appreciate the authenticity, and simplicity, of this crust. This pizza will bring you as close to Italy as you can get without crossing the Atlantic. Toppings are shaved on top; the grilled artichoke hearts, fresh basil, and garlic are veggie delight. Even this omnivore doesn't miss her usual sausage.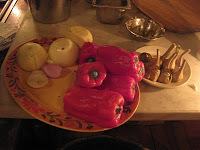 Many ingredients are imported from Italy, including ricotta, olive oil, and balls of buffalo mozzarella, which await their destiny in a glass bowl upon the marble counter. Toppings veer towards the traditional--no BBQ chicken here--and vary by night.
FYI, both of these pizza havens do not accept reservations. However, since there are no restaurant bars to whittle the inevitable wait away, both spots allow you to call ahead to put your name on the wait list. If you fancy an apertivo before Motorino, visit nearby Terroir, which boasts an encyclopedic wine and beer-by-the-glass list that is sure to please the most studied or amateur imbibers. For Lucali, a stroll over the BQE leads to the down home Moonshine Bar, which boasts a killer beer list.